Everyone can use a little pick-me-up from time to time—and this one's made for skin. Getting older means getting wiser and better. But it also means our skin starts to lose elasticity. So, if you want to keep your skin looking youthful (but relish in the wisdom of your years) you might look for a way to reduce wrinkles, fine lines, and loose skin.
It's undeniable that our skin plays an important role in our overall appearance and confidence. But we got you. Many treatments are available to help combat the signs of aging, including radiofrequency microneedling, which we commonly call "RF microneedling."
RF microneedling is a nonsurgical, minimally invasive skin rejuvenation procedure using radiofrequency waves and small medical-grade needles to promote skin regeneration, creating a firmer, youthful look.
How Does RF Microneedling Work?
RF microneedling uses medical-grade insulated needles to micro-injuries (sometimes we call them "channels") and high-intensity radiofrequency energy into the dermis layer of the skin. This damage stimulates the body's natural healing process, promoting new skin and collagen growth, which can lead to improved skin quality and texture.
What Is the Difference between Microneedling & RF Microneedling?
Traditional microneedling creates micro-injuries to promote healing and improved skin, but RF microneedling goes beyond this to deliver targeted, gentle heat under the skin's surface. By adding radiofrequency energy, microneedling can achieve quicker, more dramatic results.
What Are the Benefits of RF Microneedling?
RF Microneedling provides many benefits. It can:
Improve skin texture and tone
Reduce the signs of aging
Treat acne scars
Reduce the look of hyperpigmentation and sun damage
Lift and tighten the skin
Specifically, RF microneedling can be used to treat skin issues like:
Scarring
Age spots
Loose skin
Uneven skin tone
Although primarily used on the face, RF microneedling can also help improve skin on other areas of your body, including your neck, chest, arms, abdomen, thighs, and knees.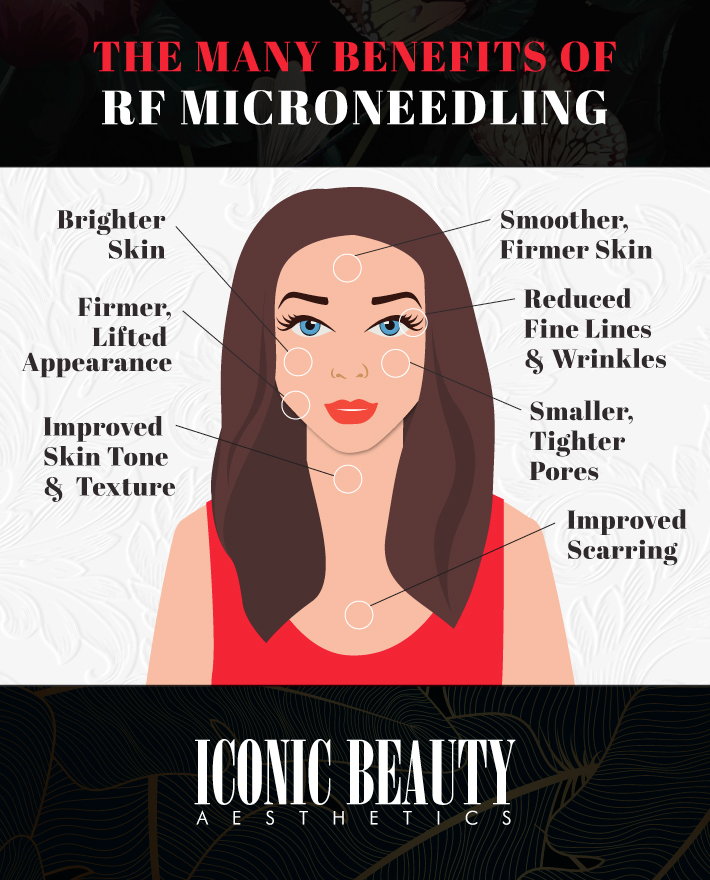 Who Is a Good Candidate for RF Microneedling?
You may be a good candidate for RF microneedling if you:
Are in good health
Have early signs of aging
Have realistic expectations
However, you may want to avoid RF microneedling if you:
Have an active cold sore breakout
Have a skin infection
Have a skin disease (like psoriasis)
Are pregnant
Are undergoing chemotherapy or radiation therapy
Are taking blood thinners
Have a history of scarring or poor wound healing
What You Can Expect During an RF Microneedling Treatment
The Consultation
The consultation is your first step to achieving glowy, youthful skin. This is where we're going to get to know you and your skin goals. We'll go over all the details of what you can expect during treatment, so you feel super prepared when the time comes.
During your consultation, we'll get to know each other really well. We'll ask you about your pain points and goals and review some family medical history.
Your aesthetician will also discuss your expectations and review the risks before beginning your RF microneedling.
The Procedure
Before RF microneedling begins, your aesthetician cleanses your skin and applies a topical anesthetic to help you feel more comfortable. Once the cream takes effect, your aesthetician will use the RF microneedling device to heat your skin and make small, even punctures, focusing on your desired treatment areas.
The time it takes for RF microneedling varies depending on your goals and the size of the treatment area.
After the procedure, your aesthetician can apply a healing balm and serum to help soothe your skin and help it recover.
RF Microneedling Recovery Time
It's normal to feel some redness and irritation Immediately following the procedure. Some people feel comfortable returning to work right after their appointment, but everyone is different.
Recovery time is typically short. To help promote healing:
Wear SPF for several weeks after your treatment.
Use a gentle cleanser after your treatment, as recommended by your aesthetician.
Avoid wearing makeup until at least the next day.
Avoid activities that may cause excessive sweating.
Avoid using too many products on your skin for the following days.
Sunscreen is never a bad idea! Protecting your skin from UV rays can help prevent damage.
How Soon Will I See Results from RF Microneedling?
Many patients see results within a few days of their initial treatment. RF Microneedling stimulates collagen production, so you may notice a gradual improvement over 6 months.
How Long Does RF Microneedling Last?
After your initial treatments, your results may last around a year, but touch-ups are usually recommended to maintain your rejuvenated look.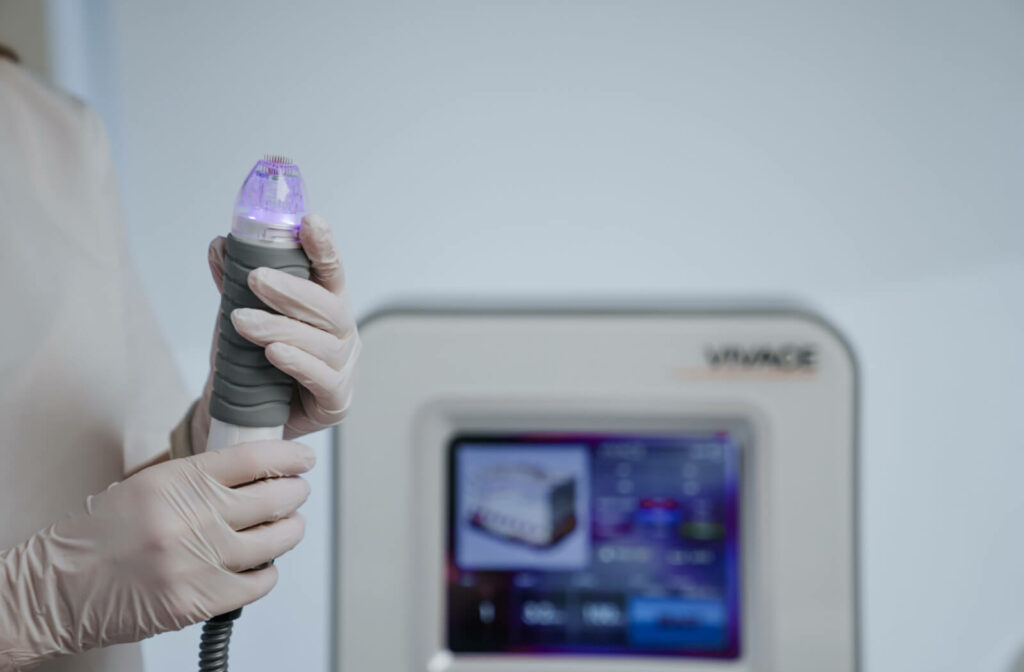 How Many Times Should You Do RF Microneedling?
How many treatments you should have totally depends on your expectations. Because RF microneedling is so flexible, some treatments may only need 1 visit, but addressing difficult skin issues may requires a series of 3-6 sessions. We can chat about how many visits you'll need at your consultation.
Each treatment session is spaced 4-6 weeks apart to allow the skin to heal.
Improve the Skin You're In with Iconic Beauty Aesthetics
Tbh, RF microneedling is an excellent way to restore your skin's texture, tone, and resiliency, and it's designed to work for all skin types and concerns.
Learn more about RF Microneedling and see the difference it can make in your skin's appearance. Contact our team at Iconic Beauty Aesthetics. We provide no-obligation consultations to help you plan your path to skin rejuvenation.