Looking in the mirror, you may see only tired, dull skin, but we know that underneath is a glowing complexion ready to shine. Chemical peels can help bring that glowing skin to the surface, smooth away dead cells, and reveal a youthful appearance.
Chemical peels are popular because they effectively restore radiant skin, but before your treatment, you should understand how it works and what to expect following your treatment, day by day. Iconic Beauty Aesthetics can answer questions and create a plan catered to your unique skin with an in-depth consultation.
What Is a Chemical Peel?
A chemical peel is a noninvasive, safe, yet powerful exfoliating treatment using a balanced formula of acids that work together to remove the top layers of the skin to expose the new, youthful skin beneath.
At Iconic Beauty Aesthetics, we use Skinceuticals' Gel Peel, consisting of 20% glycolic acid and 10% lactic acid.
You're likely familiar with glycolic acid if you've ever struggled with acne. It exfoliates the skin to get rid of flaky, damaged, or dull cells by loosening the bonds that keep them settling on your face and stimulates new collagen production for long-term youthful radiance.
Lactic acid is a milder exfoliant that excels at shrinking pores by clearing away oils, dirt, and other buildup on the skin. The Skinceuticals formula deeply exfoliates the skin while minimizing dryness and irritation.
What Conditions Can a Chemical Peel Treat?
Chemical peels can help combat various skin concerns, including:
Fine lines
Mild scarring
Hyperpigmentation
Acne
Sun damage
Uneven skin texture or tone
Large pores
Chemical peels aren't a one-and-done treatment, meaning while one treatment can transform your skin, you see lasting, cumulative benefits if you add chemical peels to your skincare routine. Your aesthetician will thoroughly assess your skin along the way, but typically 4 to 6 treatments are the sweet spot.
How to Prep for a Chemical Peel
Before your chemical peel, your aesthetician will take a complete medical history, including what medications and supplements you're taking, such as Retin-A (tretinoin), Accutane (isotretinoin), or glycolic acid.
We recommend you come in with your most natural skin possible, so we ask that you avoid facial waxing, depilatory creams, tweezing, laser procedures, or topical retinoids before your treatment.
When to Schedule Your Chemical Peel
If you're booking a chemical peel to put your best face forward for a special event, we recommend you schedule your treatment at least 2 weeks before to allow the noticeable aftereffects to fade.
The Chemical Peel Application
There are 3 types of chemical peel:
Light chemical peel offers subtle improvements, but with more treatments, your skin's radiance will shine through
Medium chemical peels typically feel noticeably smoother and look fresher immediately
Deep chemical peels offer dramatic results but come with a longer recovery period
Depending on the intensity of your peel, treatment times can range from 15 to 90 minutes.
When you arrive at Iconic Beauty Aesthetics, we'll offer you gauze to protect your eyes and use petroleum jelly to shield the sensitive areas of your face. Then, we'll apply the peel, and after the decided process time, we'll neutralize the peel and gently wipe it away with warm water.
Concerned about pain? Everyone experiences the sensation differently, and the depth of your peel will impact your comfort level, but many describe tight, warm, or tingling sensations. Immediately following the treatment, we may apply a 5-minute calming mask to soothe any stinging discomfort and minimize post-treatment irritation.
Day 1 Post-Chemical Peel
After your chemical peel, your skin will be at its most sensitive. Try to avoid direct sunlight, but at the very least, wear sunscreen. The sun's rays can be more damaging to your newly exposed skin.
Maintaining hydration is key to healthy healing. Applying moisturizer, or any product, may feel uncomfortable, but allowing the skin to dry out can prolong the healing process.
Day 2 Post-Chemical Peel
At this stage, your skin will likely be flaking off, but avoid the urge to help it along. Continue to wash your face with a gentle cleanser and add moisturizer to support the natural healing process.
Skip the gym for a few days after your peel. Your face will likely sweat and which can make it more inflamed, getting in the way of the healing process.
Redness and irritation are still common at this stage, but the healing process becomes less intense with every treatment. If you have a light chemical peel, you can typically begin wearing makeup at this stage, although your aesthetician will give you personalized directions with the best timeline for you.
Day 3 Post-Chemical Peel
A few days following treatment, the skin peeling and flaking will come to a head. Your skin may flake unevenly, but this is normal. Around the third day, the redness, itchiness, dryness, and swelling should fade.
If you plan to hide out after treatment to avoid people seeing the healing process, this is the time when you may feel ready to venture out and show off your skin. It will still be more vulnerable to UV rays, so wearing sunscreen, staying out of direct sunlight, and wearing a brimmed hat to cover your face can prevent burns and scarring.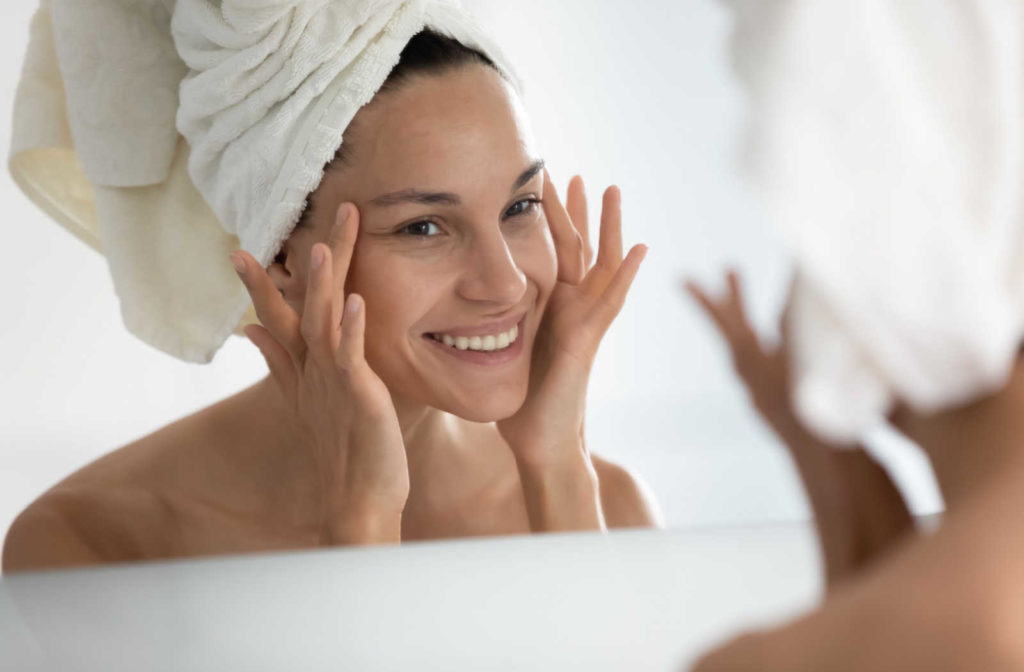 One Week Post-Chemical Peel
At this point, your skin will still be healing but look far less flaky. The hyper-sensitivity should fade, but keep up your sunscreen routine!
For 2 weeks post-treatment, you should avoid retinoids, lactic acid, glycolic acid, salicylic acid, and exfoliating products, which can increase your photosensitivity.
Cancel your facial waxing appointment, and don't tweeze, thread, or have a facial for a few weeks following your treatment to prevent scarring and irritation.
Schedule Your Chemical Peel with Us
Chemical peels can rejuvenate your skin quickly and safely. Aftercare and a nourishing skin routine can keep healing on track and help support long-lasting results. But the best results come from a routine, and at Iconic Beauty Aesthetics, we often see results with 4 to 6 treatments on a personalized schedule set by our aestheticians.
Schedule an appointment with our skin-obsessed team for skincare product recommendations according to your skin, consultations for treatments, or follow-ups. Let us lead you on a journey to glowing, radiant skin.