For years, Botox has been embraced as a method for reducing the appearance of wrinkles, fine lines, and facial creases. The injectable is a staple in the beauty industry but is also a therapeutic treatment for migraines, teeth clenching, and even excessive sweating.
Expertly placed Botox can enhance the features you love, smooth out signs of aging, and restore a youthful appearance to your skin. Depending on where Botox is injected, it can take a couple of weeks from your appointment to see the results.
Whether you're interested in incorporating Botox into your beauty routine or want to intensify your natural beauty for a life event like your wedding, our qualified nurse injectors can help you achieve natural-looking results so you still look like you.
What Is Botox?
Botox is an instantly recognizable name in the beauty industry. Even if you're not familiar with the ins and outs of aesthetics, you may have a general idea of what it is.
Delving deeper, Botox is what's known as a neuromodulator. Small amounts are injected into the underlying facial muscles to block signals from the nerves, temporarily paralyzing and relaxing the muscles. The injected muscles can't contract, making the wrinkles and fine lines soften and relax.
Botox is often used to target:
Crow's feet around the eyes
Frown lines or forehead furrows
Sagging skin
Wrinkles
Fine lines
When Does Botox Take Effect?
Depending on where you're getting your Botox injected, it can take anywhere from a few days to a couple of weeks to see noticeable results. However, the finer the lines, the quicker you'll notice results. Botox is injected in various amounts around the face, and the concentration of the product makes a difference in its effects.
Your body takes time to react to Botox injections. The product binds at the connection between the muscles and nerves, the motor endplate, to a specific protein called SNARE. The protein sends the chemical acetylcholine to the muscles to tell them to move.
Botox blocks acetylcholine, which takes several days, so the benefits don't take effect right away. After 14 days, you should notice reduced lines, wrinkles, and other signs of aging.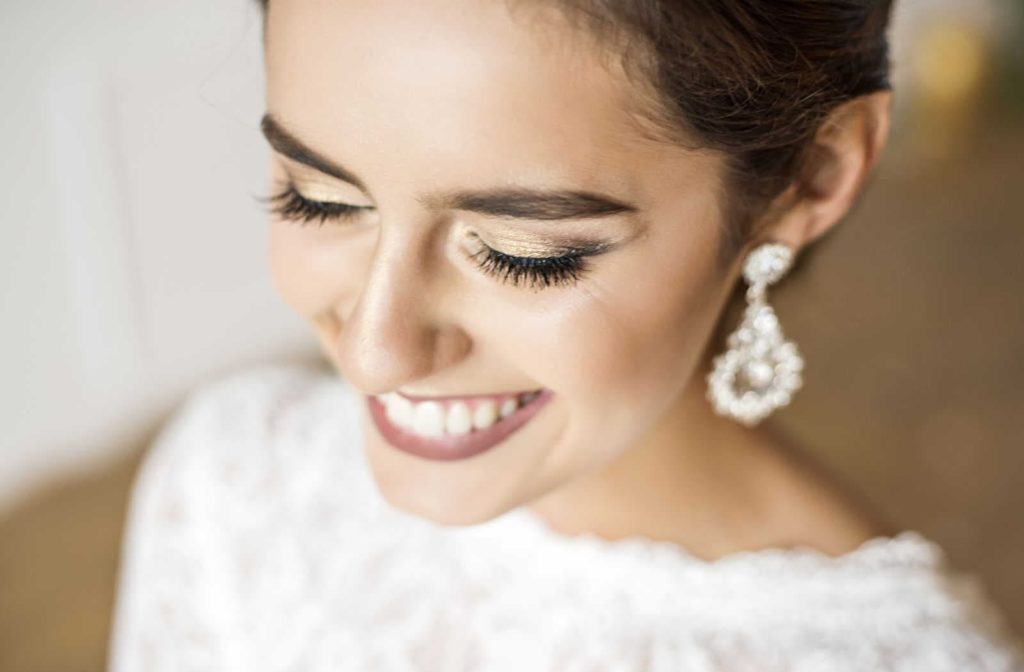 Getting Wedding-Ready with Botox
Pre-wedding Botox can help you feel confident that your skin will be radiant and youthful when you walk down the aisle. Even though most wedding plans need to happen a year in advance, Botox has a different urgency.
If you're a Botox pro, you can time your current injection schedule to match your wedding timeline. At the latest, aestheticians recommend making your last pre-wedding treatment 1 month before your wedding date.
Brides-to-be who are new to Botox but plan to get injections for the once-in-a-lifetime occasion should start as early as possible. Ideally, you should have a few appointments before the wedding to get used to the results, feel comfortable with the look, and plan which areas to target with your injector.
Make your first injection appointment at least 6 months before the wedding to start your introduction to the beauty of Botox.
How Long Does Botox Last?
Botox injections can last from 4 to 6 months. With consistent treatments, you'll benefit from longer-lasting results. Of course, the location of the injections and the amount of Botox used can impact its longevity. You may notice signs of aging reappear as a result of:
Age
Skin elasticity
Wrinkle depth
A consultation with your injector will help determine how frequently you can receive Botox. For safety, it's recommended that your treatments are spaced out by 3 months or more.
How to Prevent Wrinkles
Fine lines and wrinkles are a part of getting older, laughing, and smiling through life. Between your Botox injections, you can minimize the development of new wrinkles by caring for your skin.
Wear Sunscreen
Ultraviolet radiation (UV) can cause photoaging, or premature skin aging. Signs of photoaging can include:
Hyperpigmentation
Spider veins on the neck, cheeks, and nose
Loss of general skin tone
Wrinkles and deep creases
Wearing SPF every day gives you the protection you need during daily drives, walks, or exposure from your office window.
Use Premium Skincare: SkinCeuticals
Skincare with nourishing ingredients, including moisturizers, gentle cleansers, and serums, can make a difference in the quality of your skin. Ask our aesthetic experts for recommendations on which SkinCeuticals products can best care for your skin from the inside out.
Hydrate
Staying hydrated is vital for every part of your body, including your skin. While drinking enough water alone isn't enough to reverse aging, if you're prone to dehydration, drinking water can make a difference in your complexion.
Book a Botox Consultation to Fight Wrinkles
Our passionate injectors love to talk about the power of Botox and can answer your questions and address concerns before you make a commitment. Whether you want to explore preventative Botox, prepare for your wedding day, or add an effective wrinkle-fighting treatment to your beauty routine, schedule a consultation with our team at Iconic Beauty Aesthetics to learn more.