Pregnancy changes your whole world, including your skin care regimen. Dry skin, acne, and hyperpigmentation can develop, and your standard go-to products may not be pregnancy-safe.
Pampering your skin looks slightly different with pregnancy, but you can nourish your skin and target pregnancy-related skin changes with the right products. By staying away from certain ingredients and embracing others, you can harness the "pregnancy glow."
How Does Your Skin Change During Pregnancy?
Some are lucky enough to have 9 months of clear, perfect skin. Most others experience at least one inconvenient skin issue. Some of the most prevalent skin changes in pregnancy are:
Hyperpigmentation and dark spots on the breasts or inner thighs
Melasma, or pregnancy mask, discolouration patches on the face around the forehead, cheeks, and nose
Linea nigra, a dark line that runs vertically from the navel towards the pelvis
Acne
Common skin changes in pregnancy can be blamed on hormone fluctuations, but the root cause of some skin changes is still unknown. Managing shifts in your skin's condition is possible with the proper care and products.
Products to Avoid During Pregnancy
You don't have to throw away your whole lineup of skin care products when you discover you're pregnant, but this is the perfect time to learn about your products and scrutinize the list of ingredients.
Aesthetic treatments like Botox or fillers should wait until after your due date, and you should shelve some commonly used products for 9 months.
Retinoids
Retinoids are magical because they can help reverse acne and reduce fine lines. It's the anti-aging dream ingredient because it can help exfoliate surface skin cells more effectively and boost collagen production for more youthful skin.
When you're pregnant, it's best to avoid retinoids altogether, from topical varieties to prescription oral retinoids such as Accutane.
Chemical Sunscreens
Some chemical sunscreens haven't been tested for pregnancy safety. Oxybenzone and its derivatives are an effective ultraviolet (UV) filter frequently used in sunscreens. While it's effective in protecting your skin, oxybenzone is a known endocrine disruptor, which can disrupt hormone production, potentially affecting the hormonal system of newborns.
Wearing sunscreen daily can help reduce the severity of melasma, and mineral-based sunscreens, including zinc oxide and titanium oxide, are safer for pregnancy. SkinCeuticals Physical Fusion UV Defense SPF 50 is a mineral-based protection from UVA and UVB rays, tinted to promote radiance and adapt to your skin without the white cast typical of zinc sunscreens.
You can also make brimmed hats a part of your pregnancy style to further protect your skin from the sun's damaging rays.
Phthalates
Common in many beauty and personal care products, phthalates are endocrine-disrupting chemicals that can have adverse reproductive and developmental effects. Phthalates, including the most common diethylphthalate (DEP), are often found in cosmetics.
They're primarily found in plastic packaging but can sink into the product itself and cause interferences in your hormone production. Before you use any products during your pregnancy, scour the label for signs of phthalates, or ask a professional if you're unsure.
Salicylic Acid
If you've struggled with acne, you may be familiar with salicylic acid, the go-to ingredient for its anti-inflammatory abilities. High doses of salicylic acid, including chemical peels, should be avoided during pregnancy. While it's unlikely to pose a risk to the baby, your skin is highly sensitive during pregnancy, and salicylic acid can cause irritation.
Although microdermabrasion and chemical peels are best avoided during pregnancy, dermaplaning is a safe exfoliation treatment that can leave your skin glowing and smooth.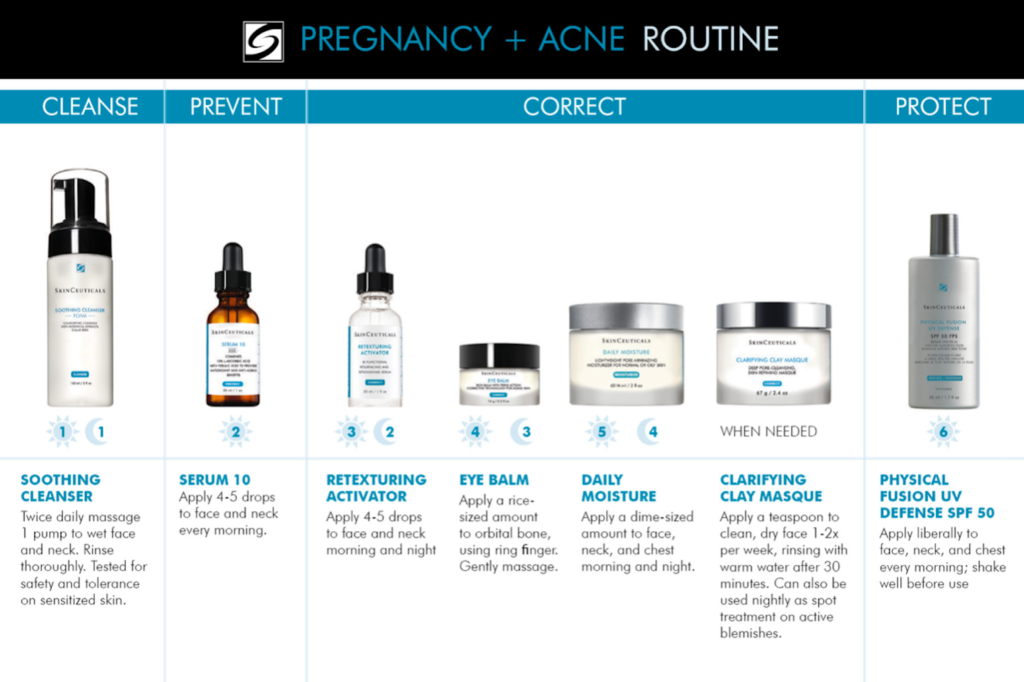 Ingredients Safe for Skin During Pregnancy
Even if some of your tried-and-true products aren't recommended for pregnancy, there are several effective alternatives you can fall in love with, no matter what your skin concern is.
What to Use for Acne
If pregnancy has brought back the acne of your adolescence, it calls for products more gentle than salicylic acid and retinoid. Glycolic acid, less than 10%, is an effective alternative that can pull double duty by reducing fine lines, brightening skin, and reducing hyperpigmentation. While research states that glycolic acid is safe, it's always best to check in with your personal Healthcare Provider.
A cleansing foam, like Soothing Cleanser, is necessary for a more gentle skincare routine. With orchid and cucumber extract, you can calm irritation from acne, and the sensitive formula is perfect for your morning and evening cleanse.
What to Use for Stretch Marks
As your baby bump grows, you'll likely notice stretch marks as red, purple, pink, or brown stripes. While you may not be able to prevent stretch marks, you can soothe the discomfort with constant hydration. Using cocoa butter, shea butter, or other thick moisturizers regularly can help with comfort and keep your skin as soft as your baby's will be.
Linea nigra is another form of discolouration that's not preventable but can benefit from hydration and moisturizing. It tends to be temporary and will likely disappear following delivery.
What to Use for Melasma
SPF protection will be your saving grace if you're noticing signs of melasma, or pregnancy mask, throughout your pregnancy. Sun exposure can inflame your melasma, so proper sunscreen for UVA and UVB protection can help prevent discolouration, keep your skin looking youthful, and prevent painful sunburns.
SkinCeuticals Discoloration Defense is a dream solution for hyperpigmentation that accompanies pregnancy. It can brighten your skin, reduce discolouration, and minimize the chance of its return. Applying SkinCeuticals Metacell B3 morning and night can help promote skin renewal, reduce discolouration and blotchiness from melasma, and offer lightweight hydration.
What to Use for Aging
Starting with an antioxidant-rich SkinCeuticals Serum 10, you can fight aging without retinoids and help neutralize damaging free radicals from environmental and sun damage. The vitamin C serum can absorb into the skin without residue and safely reduce the appearance of fine lines and wrinkles.
Follow up with SkinCeuticals Eye Balm to relieve eye puffiness and signs of aging around the delicate skin of your eyes. Treating yourself to a Clarifying Clay Mask weekly can gently exfoliate your skin with botanicals and minerals for a healthier complexion and reduced oil production.
Discover Pregnancy-Safe Skin Care & Skin Treatments
We know pregnancy is beautiful, but it can create unexpected changes. Make pregnancy skincare simple with the support of our passionate team. Contact us for a consultation at Iconic Beauty Aesthetics and feel confident in your changing skin through every step of your pregnancy and new parenthood.