Sun damage. Acne scars. Fine lines and wrinkles.
All of these troubles lead people to seek resolution for better-looking skin.
There are plenty of ways to make your skin look youthful, plumper, and softer. Where do you start? First, you will need to make sure you're going to a reputable and experienced aesthetician.
Microneedling is a common choice for adding collagen and elasticity to your skin.
The Quest for Even Skin
Your body has a natural healing process, but as we age, we develop skin spots, acne, scarring, fine lines, and wrinkles. Your collagen and elastin production slows down, causing these issues to become more prevalent in your complexion.
Microneedling uses your body's natural healing process to achieve a more even skin tone. The process uses medical-grade needles to create micro-incisions into the skin. Then, the healing process starts, and your body begins producing elastin and collagen. The result? Smoother, firmer skin.
The treatment typically does not require any downtime and is minimally invasive. After microneedling, the minor pricks will heal completely on their own. Achieving optimal results may require multiple appointments.
Proper Microneedling Safety
Microneedling is safe if it's done right. Our office uses sterilized, medical-grade needles to complete this procedure and specially-trained aestheticians who do the work.
Dermatologists and Aestheticians have been using microneedling to rejuvenate skin for a long time. Modern improvements began in the 90s, and now it is a standard procedure offered widely at aesthetic and dermatology practices.
If you're going to try microneedling somewhere other than a dermatologist's office, you should check their credentials first. Here at Iconic Beauty, our aestheticians have all completed extensive training from recognized institutions.
You could buy an at-home kit, but it is associated with many risks. Dermatologists warn against using do-it-yourself kits because you could accidentally hurt your skin and you may not have a good way to sterilize the needles.
If you're worried about the cost, book a consultation with us. Microneedling is more budget-friendly than some other procedures for skin tightening and brightening.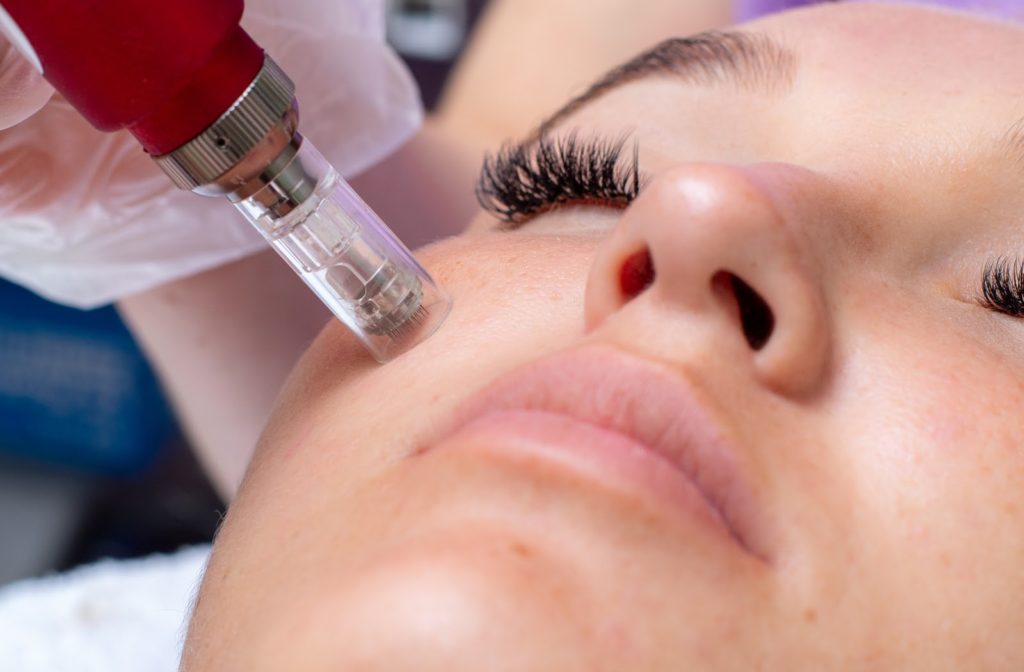 The Procedure
Before we start with any treatment, you will come in for a no-obligation consultation where we will teach you about the procedure, go over your goals, and answer any questions you may have.
At the procedure, we will start by cleansing your skin and applying a topical anesthetic, which will ease any discomfort.
The device we use is called an InnoPen, and it will make small, even pricks on your skin. Depending on the size of the treatment area, the entire process should take between 30 minutes to 2 hours. Afterward, we will apply a balm or serum to jumpstart the healing process.
Are There Any Risks?
As your skin heals, you will likely experience some irritation, minor swelling, and redness. Further complications are unlikely, but if they do occur, you should see a doctor.
It's time to see a doctor if you experience:
Excessive bleeding (a small amount is common)
Bruising (visible dark red or purple)
Infection (swelling, redness, discomfort, discharge)
Peeling (more than flaking of dead skin cells)
Most people can get microneedling, as long as they don't have any infections or issues with healing wounds. To find out for sure, you can always talk to us. We're happy to answer any questions.
After Your Treatment
Your skin may be sensitive for a few days after receiving microneedling. During this time, you should avoid using any makeup or products that could further irritate your skin.
After microneedling, try to avoid:
Cosmetics or products that could cause irritation
Prolonged or intense sun exposure
Activities that could cause sweating
Swimming or activities that pose a risk of infection
Achieve Smoother Skin
Microneedling is a great and effective way to achieve smoother, firmer skin, so long as it is done correctly.
The process requires minimal downtime, and you should notice results after only a few sessions. You can increase your treatment results by using balms, additions like Platelet-rich plasma, or vitamin C since microneedling also increases the skin's retention for these additions. If you're exploring ways to tighten and brighten your skin while smoothing out imperfections, you can book a consultation with our team. There's no pressure to choose a treatment in the consultation. We're here to listen to your skin goals and help you decide which option is best for you.